Embrace The Cold: A Guide To A Winter Road Trip
Friday June 30th 2023
school holidays, Winter, Family, Roadtrip, Treetop Walk, Zipline Tours, Enchanted Forest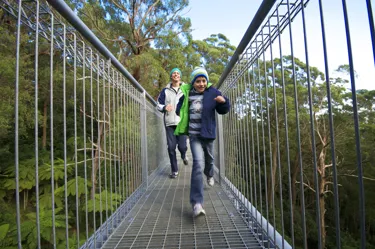 These school holidays pack up the car and embark on a winter road trip through the South of NSW. 
With activities for families, friends and couples, check out the list below of the best things to see and do on your epic road trip as you embrace the Winter chill. 
The best stop to make is at Illawarra Fly Treetop Adventures, head out into the Illawarra Rainforest and discover the Nursery Rhyme Village located in the Enchanted Forest. Collect your activity booklet as you explore the bush tracks, climb to the top of Knights Tower and wander along the 25-30m walkways that are resting in the tree canopy. Feel like a bit more, upgrade your experience to the Zipline Tour and soar through the trees.
Looking for the best place to stay on your road trip? Look no further then Robertson Hotel. This picturesque hotel is steeped in history and has over 40 rooms, all decked out in its original ambiance but with a modern, fresh twist. The friendly staff are also on hand, to help you out with any needs while staying there.
On your road trip, stopping at the iconic Kiama blowhole is a must. Grab yourself some fish and chips, head to the ocean and be sprayed by the sea salt as the water rises and rushes over the rocks. This is the largest blowhole in the world and can be seen by multiple viewing decks. Just watch out for any seagulls trying to nick those hot chips.
4. Robbo Pub 
A pub feed is the only way to go on a road trip. Warm yourself up with a tasty meal and a refreshing drink. Robertson Pub, also warmly known as Robbo Pub has been around since 1887 and with it's friendly atmosphere, there is no better place to stop for that schnitty. 
Are you an early bird or a night owl? On your trip choose your rainforest adventure at Illawarra Fly. Wake up and go on a guided Sunrise Treetop Walk, start your day the right way high above the treetop canopy overlooking the stunning Illawarra region. Or strap on your night wings and fly through the darkness with an After Dark Zipline Tour. The choice is yours. 
What are you waiting for? Embrace winter, by getting outdoors and exploring the beautiful countryside. From the ocean to the rainforest, there are so much to see and do these winter school holidays.