Tickets & Activities
Book in Advance and Save
We are cashless
No Booking Fees
Book in Advance and Save up to 20%
We are cashless
No Booking Fees
Book in Advance and Save up to 20%
Booking Online is Recommended
We recommend to book online to get a 10% discount by booking in advance. We do sell tickets on site however there may not be Zipline spaces available.
Please note: online discount is applied to bookings made at least 1 day in advance.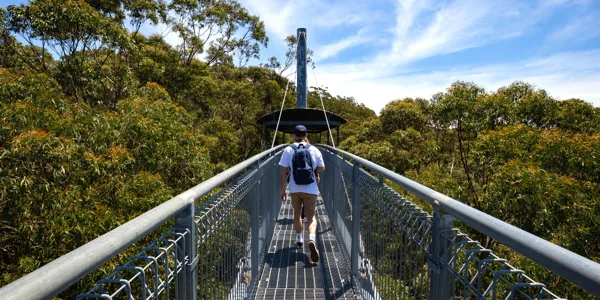 Treetop Walk
Discount is applied to bookings made at least 1 day in advance
1.5km walk through the treetops, 20-30 metres above ground
Experience nature with a newfound perspective in the Illawarra Rainforest
Suitable for all ages and fitness levels
Online From
$22
Per Adult
On The Day
$27.50
Per Adult
Buy Now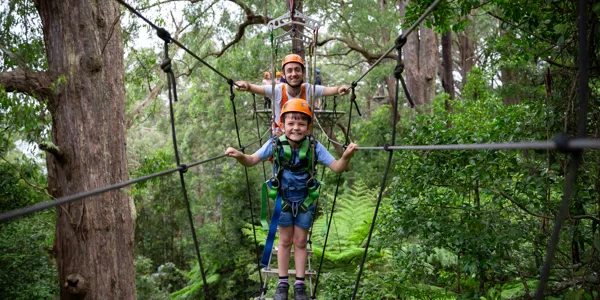 Zipline Tours
Discount is applied to bookings made at least 1 day in advance
3 flights, 2 suspension bridges, 4 cloud stations and Treetop Walk included
Tours have limited capacity - book online to secure your spot today
Suitable for ages 4+ and the perfect "my first zip" experience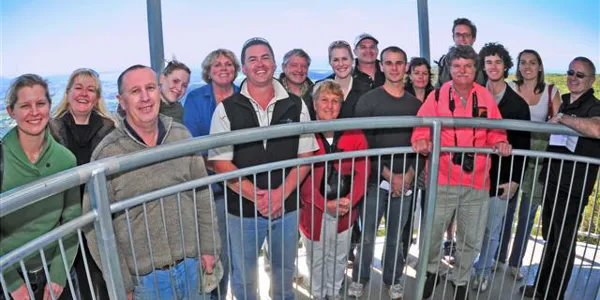 Treetop Walk Groups 10+
Discounted price for groups of 10+
Bookings must be made 48 hours in advance
Catering for groups is also available
Online From
$20
Per Adult
On The Day
$27.50
Per Adult
Booking Form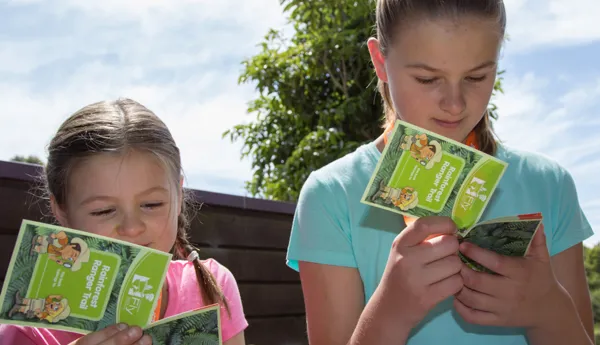 MyFly Pass
Illawarra and Southern Highlands residents visit Illawarra Fly Treetop Adventures once, then enter FREE for 12 months with this incredible offer!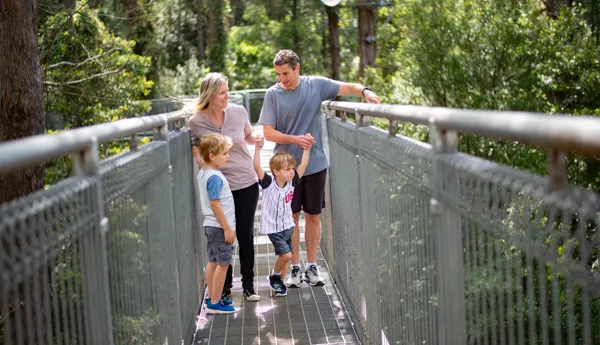 Merlin Annual Pass
Unlock 12 months of fun at 10 top attractions with either our Platinum or Gold Merlin Annual Pass.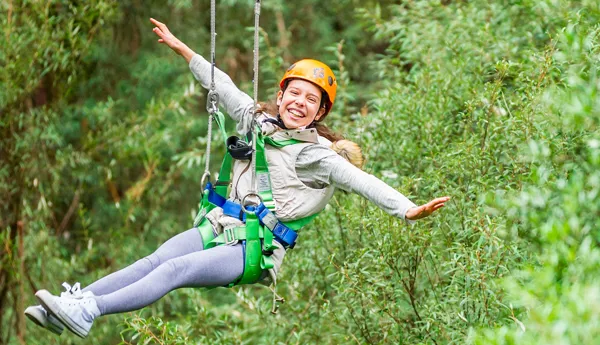 Gift Vouchers
From giving someone an experience they've always wanted to do, you'll be sure to find the perfect 'Illawarra Fly Gift Voucher present for any occasion.
Tickets and Experiences Info
The Treetop Walk is a 1500 metre walk through beautiful warm temperate rainforest. 500 metres of this a steel walkway which is nestled in the treetop canopy some 20-30 metres above ground level. The walkway culminates in Knights Tower, a spiral tower that rises to a breathtaking 45 metres above the forest floor. Then there's the two springboard cantilevers suspended 25 metres above the forest floor which take guests to the edge of the escarpment. Most visitors spend around an hour enjoying the treetop walk. The Zipline is a series of elevated cable spans and suspension bridges which you zip along, similar to a flying fox. Each zip is connected by tree platforms called 'cloud stations', and continuously attached to a steel cable suspended up to 35 metres above the forest floor.
All information regarding the Zipline experience can be found in the terms & conditions.
Yes, Treetop Walk admission is included in your Zipline ticket. You can book your Zipline tickets online and receive up to 10% off!
No you don't have to book the Treetop Walk in advance, simply turn up on the day. Our top tip is to book online to save up to 10% off admission tickets!
Yes our attraction is wheelchair and pram accessible, however prams or wheelchairs cannot be taken up the 106 steps of Knights Tower.
We endeavour to remain open in all conditions where health and safety are not compromised. If your Zipline is cancelled we will aim to reschedule for a day with more Zipline friendly weather.
Although our policy is to not to change Zipline reservation times (especially at short notice) please call us with enough notice so we can look at a solution for you. A reschedule fee may be applied. We adhere strictly to the Zip line tour start times so recommend that you allow extra travel time to ensure  your pre-departure arrival.
The Zipline experience can vary depending on your group size. The Zipline experience includes a safety briefing which takes around 15 minutes. Then, your guide will take you to the Zipline which consists of a series of 3 cables and 2 suspension bridge which takes around 45 minutes to 1 hour.
There are to be no loose items take on the Zipline tour, however, we do hire out GoPro's for $40. With your provided email, we can send you a link to download your unedited GoPro content from our GoPro Cloud for yours to keep.
You can take your own phone or camera as long as it has a strap, or you can purchase or hire an elastic Lanyard at the low cost of $15 or $5 respectively.
Holds a majority of phone sizes.
The Zipline experience is $75 per adult and $45 per child and includes Treetop Walk admission. Book online to receive up to 10% off the walk-up price.
Illawarra Fly Treetop Adventures is located on top of the Illawarra Escarpment, on the South Coast on NSW, about 2 hours drive south of Sydney. Unfortunately there are no direct public transport options to the Illawarra Fly.
 
From Sydney you can come via car or train.
If you are travelling by car – travel down the Hume Highway and take the Bowral turn-off, then drive through the lovely Southern Highlands to Robertson and follow the signs from the Famous Robertson Pie Shop. OR travel down the picturesque Grand Pacific Drive – take the Illawarra Hwy (Macqaurie Pass) towards Robertson. Turn left at the 'famous' Robertson Pie Shop onto Jamberoo Mountain Road. Travel 10 kms and turn left at Knights Hill Road. Alternatively drive through Albion Park towards Jamberoo, taking the turnoff at Jamberoo Mountain Road, and follow the signs to the Illawarra Fly.
From the Southern Highlands
15 minutes from Robertson, via Jamberoo Mountain Road, taking the turn opposite the 'famous' Robertson Pie Shop towards Kiama.
 
From Kiama – South Coast
35 minutes from Kiama, via Jamberoo and Jamberoo Mountain Roads- 15 minutes past Minnamurra Rainforest – towards Robertson.
We are approximately a 2 hour scenic drive from Sydney.
There are only four steel canopy walks in the world. All are located in Australia. They are the lllawarra Fly Treetop Walk, Southern Highlands NSW; Otway Fly Treetop Walk, Great Ocean Rd Victoria; Tahune Airwalk, Tahune State Forest Tasmania; and Valley of the Giants Treetop Walk, Walpole-Nornalup National Park Western Australia.
The Illawarra Fly is owned by Merlin Entertainments.
Contractors:
Developers: Canopy01
Crisp Bros/Haywards
ABlock Builders
Select Civil
Kevin Mills & Associates
Construction cost was approximately $6.5 million