Frequently Asked Questions
Tips and FAQ's
The Treetop Walk is a 1500 metre walk through beautiful warm temperate rainforest.  500 metres of this a steel walkway which is nestled in the treetop canopy some 20-30 metres above ground level.
The walkway culminates in Knights Tower, a spiral tower that rises to a breathtaking 45 metres above the forest floor. Then there's the two springboard cantilevers suspended 25 metres above the forest floor which take guests to the edge of the escarpment.
Most visitors spend around an hour enjoying the treetop walk.
The Zipline is a series of elevated cable spans and suspension bridges which you zip along, similar to a flying fox. Each zip is connected by tree platforms called 'cloud stations', and continuously attached to a steel cable suspended up to 35 metres above the forest floor.
Yes, Treetop Walk admission is included in your Zipline ticket. You can book your Zipline tickets online and receive up to 10% off!
We strongly recommending booking online to ensure your secure your spot. Our top tip is to book in advance (at least 24 hours) online to save up to 10% off admission tickets!
Yes we have a family package available at walk up on the day. 
Yes our attraction is pram accessible for the little ones to enjoy the Treetop Walk, however prams or wheelchairs cannot be taken up the 106 steps to the top of Knights Tower. For those with mobility issues, we provide a courtesy cart to and from the Treetop Walk entrance however, we recommend to call or email before your visit to ensure we accommodate you in the best way possible. Please call us on (02) 4885 1078 or email info@illawarrafly.com. 
We are open during wet weather, however, we do monitor our wind speeds and lightning activity to ensure guest safety. If your Zipline Tour is cancelled we will contact you to reschedule for another day. In severe weather situations where the entire attraction is required to close, we will update both our Facebook and Instagram pages to advise guests. 
Although our policy is to not to change Zipline reservation times (especially at short notice) please call us with enough notice so we can look at a solution for you. A reschedule fee may be applied. We adhere strictly to the Zipline Tour start times so recommend that you allow extra travel time to ensure your pre-departure arrival.
Your Zipline Tour experience can vary depending on your group size. Before you begin, each zipper must participate in a safety briefing which takes around 20 minutes. Then, your guide will take you to the Zipline which consists of a series of three flights, two suspension bridge and four cloud stations which takes around 40 minutes to 1 hour to complete. 
There are to be no loose items take on the Zipline tour, however, we do hire out GoPro's for $40. With your provided email, we can send you a link to download your unedited GoPro content from our GoPro Cloud for yours to keep.
You can take your own phone or camera as long as it has a strap, or you can purchase or hire an elastic Lanyard at the low cost of $15 or $5 respectively.
Holds a majority of phone sizes.
The Zipline experience is $75 per adult and $45 per child and includes Treetop Walk admission. Book in advance and save 10% online! 
 
Illawarra Fly Treetop Adventures is located on top of the Illawarra Escarpment, on the South Coast on NSW, about 2 hours drive south of Sydney. Unfortunately there are no direct public transport options to the Illawarra Fly.
Address: 182 Knights Hill Rd, Knights Hill NSW 2577
Click here for specific instructions based on your location. 
We are approximately a 2 hour scenic drive from Sydney.
There are only four steel canopy walks in the world. All are located in Australia. They are the lllawarra Fly Treetop Walk, Southern Highlands NSW; Otway Fly Treetop Walk, Great Ocean Rd Victoria; Tahune Airwalk, Tahune State Forest Tasmania; and Valley of the Giants Treetop Walk, Walpole-Nornalup National Park Western Australia.
The Illawarra Fly is owned by Merlin Entertainments.
Contractors:
Developers: Canopy01
Crisp Bros/Haywards
ABlock Builders
Select Civil
Kevin Mills & Associates
Construction cost was approximately $6.5 million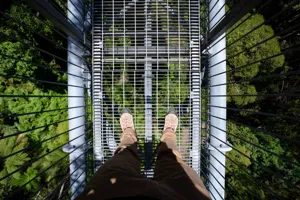 Fast facts..
The Illawarra Fly Treetop Walk is a 1.5km loop track. The Steel canopy structure is 500 metres long with an average height of 25 metres
Knights Tower is 45 metres high
The Treetop Walk has a 280km/hr wind speed design
The cantilevers can hold a maximum weight of 28 tonne or 800 wombats!!
The Treetop Walk holds an average of 400kg/m2
The Illawarra Fly Treetop Walk is located on 40 acres of private land.
Open every day. 10.00am – 5.00pm (last admission at 4.00pm)
Located approximately 2hrs drive from both Sydney and Canberra.
All car parking at Illawarra Fly is free of charge.