Join Us During Book Week!
Welcome to Illawarra Fly Treetop Adventures, the ultimate destination for thrilling school excursions during Book Week!
Experience the magic of the treetops with our exciting pricing updates: all teachers join for free, students enjoy a discounted rate of $8 each, and parents can join the adventure for just $10.
Immerse yourself in guided tours filled with fascinating insights into the rainforest, indigenous culture, and captivating facts. Explore our curated collection of books, including indigenous literature, nature tales, and dreamtime stories, with a portion of the proceeds donated to the local Children's Hospital.
Join our vibrant Custome Parade, enjoy enchanting Story Time sessions, and engage with our sustainability-focused activity booklets. Book now for an unforgettable adventure at Illawarra Fly Treetop Adventures!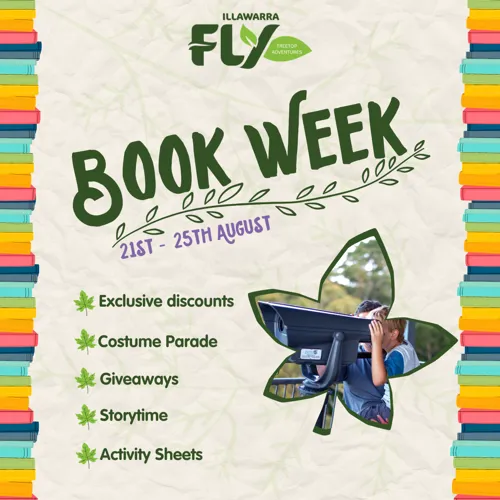 BOOK NOW
Already have a booking during book week?
No worries at all! You're already apart of this very special experience, for further information feel free to email info@illawarrafly.com or call (02) 4885 1078.