Weekend adventures at Illawarra Fly
Monday July 20th 2020
Family fun, kids activities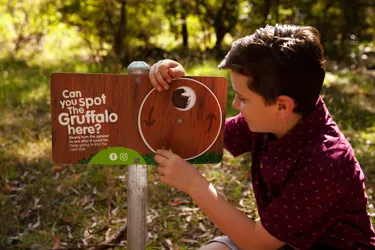 Embark on our Treetop walk and explore 'The Gruffalo Spotters Trail' using the free Augmented Reality app (The Gruffalo Spotters AUS)! Look for clues across the walk to locate each character from the storybook then use the special markers and app to activate Mouse, Fox, Owl, Snake and The Gruffalo! Watch as they enter your world, then jump beside them to snap a picture.  
Along the way, experience breathtaking coastal views over the Illawarra Escarpment on our beautiful 1.5km walk through nature. Featuring 500 metres of elevated walkway, raised an incredible 20-30 metres above the forest floor, you truly feel like you're part of the canopy. This walkway also features two gently swaying cantilever and a spiral tower that rises an incredible 45 metres to stunning views.
Want to add even MORE fun and adventure? Enjoy our Zipline Tour and soar on three flights, walk across two suspension bridges and stop at four cloud stations! Please note, our Zipline Tour has limited capacity due to social distancing, so be sure to book online to secure your spot – and save money too!
HOW TO DOWNLOAD THE APP
We advise all guests to download The Gruffalo Spotters App prior to visiting Illawarra Fly. Whilst you don't need the internet to use the App, you do to download and Illawarra Fly has limited reception.
HOW TO GET YOUR PHOTOS FROM THE APP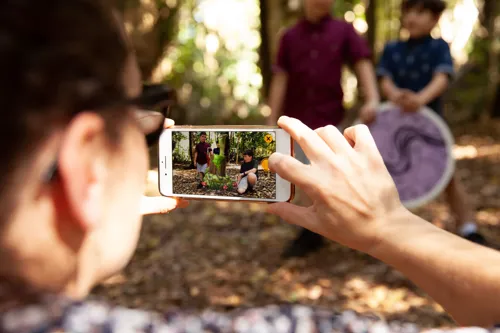 Before you embark on The Gruffalo Spotter's trail, please ensure you understand how your photos are captured and have allowed the App access to your storage. To see if your settings are correct, please click here and follow the instructions.
The Gruffalo © 1999 & TM Julia Donaldson / Axel Scheffler.  Licensed by Magic Light Pictures Ltd.  Developed in partnership with Forestry England.
 HEALTH AND SAFETY 
We are open weekends and public holidays only from 10am - 5pm (last entry 4pm).

We are cashless - book online to save, or bring your card for on-site purchases.

We've reduced our Treetop Walk and Zipline Tour capacity (book online and secure your spot). This includes pre-paying and selecting the date and time slot of your visit.

We ask all staff and guests to practice social distancing and make use of the hygiene stations at the attraction.
For more information on our health and safety measures and updates click here.