The Gruffalo Spotters Trail this Easter!
Wednesday March 11th 2020
school holidays, Family fun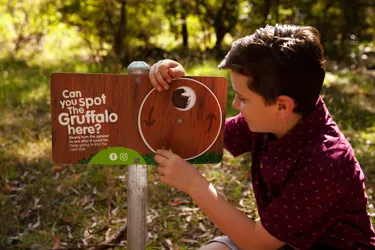 This has now ended, explore more great events here or buy tickets here.
Hop into Illawarra Fly these April school holidays for an epic Easter adventure on The Gruffalo Spotters Trail! Journey through our Treetop Walk with your family and friends, to find all 5 characters from the classic Julia Donaldson storybook, The Gruffalo!  
Skip and stroll through the 'deep dark woods' like Mouse, wriggle around and hiss like Snake or sneak about the Treetop Walk on your tiptoes like Fox! Once you've spotted each character, bring them to life using the FREE Augmented Reality app – 'The Gruffalo Spotters AUS' – by holding it up to the special markers on the Treetop Walk to activate Mouse, Fox, Owl, Snake and The Gruffalo! Watch as each character enters your world and then take your picture beside them!
All guests to Illawarra Fly will also be able to enter our special Gruffalo prize pack which includes The Gruffalo storybook, DVD, plush toys and more! Be sure to follow the Illawarra Fly Facebook page to keep an eye out for the lucky winner announcement on Wednesday 6th May!
Don't want the fun to end? Why not experience the highest Zipline Tour in Australia? With three flights, two suspension bridges and four cloud stations, gain a unique perspective of the rainforest as you soar through the treetops! Suitable for ages four and up, it's the perfect "my first zip" experience and something the whole family can enjoy!
For tickets and further information about school holiday activities, check out our latest news.
EVENT DETAILS:
Where: Illawarra Fly Treetop Adventures, 182 Knights Hill Road Knights Hill NSW 2577
When: Saturday April 4th – Sunday May 3th
Hours: Open daily 9:00am – 5:00pm. Last entry 4:00pm
Cost: The Gruffalo experience is included in price of Treetop Walk. Adults from $22.50. Children from $13.50. Zipline Tour (includes Treetop Walk): Adults from $60. Children from $36. 
HOW TO DOWNLOAD THE APP
We advise all guests to download The Gruffalo Spotters App prior to visiting Illawarra Fly. Whilst you don't need the internet to use the App, you do to download and Illawarra Fly has limited reception.
HOW TO GET YOUR PHOTOS FROM THE APP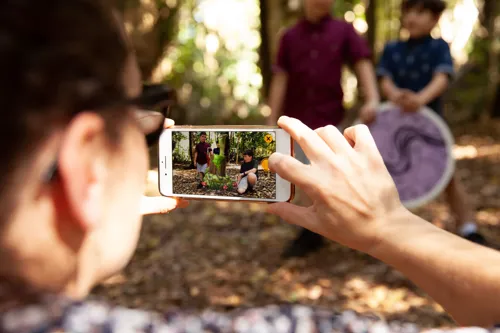 Before you embark on The Gruffalo Spotter's trail, please ensure you understand how your photos are captured and have allowed the App access to your storage. To see if your settings are correct, please click here and follow the instructions.
The Gruffalo © 1999 & TM Julia Donaldson / Axel Scheffler.  Licensed by Magic Light Pictures Ltd.  Developed in partnership with Forestry England.