Take advantage of the outdoors these school holiday at Illawarra Fly
Tuesday June 30th 2020
school holidays, kids activities, things to do, re-open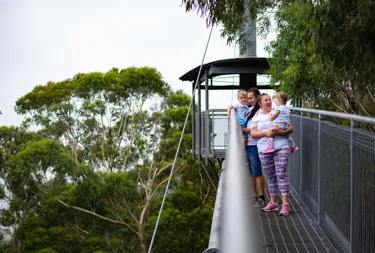 This has now ended, explore more great events here or buy tickets here.
What could be better these school holidays than experiencing nature with a newfound perspective from the Illawarra Rainforest?
Take in breathtaking views over the Illawarra Escarpment and a beautiful 1.5km walk through nature, miles away from any cares. With 500 metres of elevated walkway, you truly feel like you're part of the canopy, raised an incredible 20-30 metres above the forest floor. This walkway also features two gently swaying cantilever and a central spiral tower that rises 45 metres to those panoramic views.
The Treetop Walk also features 'The Gruffalo Spotters Trail' where using the free Augmented Reality app – 'The Gruffalo Spotters AUS' – and special markers across the walk, you can bring to life each character from the storybook! Activate Mouse, Fox, Owl, Snake and The Gruffalo, and watch as they enter your world, then jump beside them to snap a picture.
Looking for even MORE adventure? Visitors will also be able to enjoy the Zipline Tour, gaining a unique perspective of the rainforest as they soar through the treetops and immerse themselves in nature like never before. Journey across two suspension bridges, stop at four cloud stations and soar on three flights, one of which is 106 metres long! Please note, our Zipline Tour has limited capacity due to social distancing, so be sure to book online to secure your spot – and save money too!
EVENT DETAILS
Where: Illawarra Fly Treetop Adventures, 182 Knights Hill Road Knights Hill NSW 2577
When: Saturday July 4 – Sunday July 19
Treetop Walk Hours: Open daily 10:00am – 5:00pm. Last entry 4:00pm
Zipline/Café Hours: Open Thursday – Monday (closed Tuesday and Wednesday)
Cost: The Gruffalo experience is included in price of Treetop Walk. App is free to download. General Admission Adults from $22.50, Children from $13.50. Zipline Tour (includes Treetop Walk) Adults from $60, Children from $36.
HEALTH AND SAFETY 
We will be open every day from Saturday 4th July - Sunday 19th July. From Monday 20th July we will be open weekends and public holidays only.
We are cashless - book online to save 20%, or bring your card for on-site purchases.
We've reduced our Treetop Walk and Zipline Tour capacity - be sure to book online and secure your spot! This includes pre-paying and selecting the date and time slot of your visit.
We ask all staff and guests to practice social distancing and make use of the hygiene stations at the attraction.
For more information on our health and safety measures and updates click here.