Eggciting Ideas for Camping With Toddlers
Thursday March 12th 2020
Easter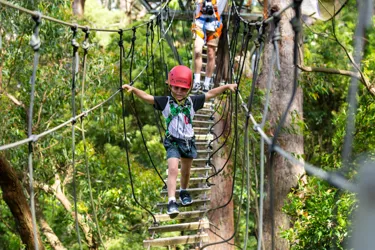 Your ultimate guide to family camping this Sydney Easter is here! First time camping with toddlers? We cover essential tips for a chocolate-smooooth getaway. What's more, discover camping spots, fun Easter games and adventurous activities.
The Best Camping Spots
With tots in tow, what we're looking for are places that are not only beautiful but have excellent facilities too. You don't want to be too off the grid.
Want to be by the beach this Easter? Big4 Easts Beach Holiday Park, Surf Beach Holiday Park and Kendalls On The Beach are right along the Kiama coastline. Kids find it hard to leave Big4, as it's action-packed with an aqua park, playgrounds and game rooms. At Surf Beach, bigger kids are kept happy with fishing and surfing. And Kendalls, with its comfortable cabins and Kids Club, is a local favourite. Easter getaways: sorted!
Still within the Illawarra region is Killalea State Park Campground. Here, pitch your tent amongst grassy meadows that are bordered by forestry. The campground is small and intimate, with nearby bush and coastal trails. If you'd like extra comfort, consider Bulli Beach Tourist Park. Located by the Grand Pacific Drive, you can take in salty air and mountain top lookouts. Like the others, there are star facilities and ample grasslands for roaming tots.
Get Into The Easter Spirit
An egg hunt in the wide-open? You betcha! Just make sure you find them all, as the foil can be harmful to wildlife. Count your eggs, take a picture of where you've left them, or place each egg in a container. Otherwise, get crafty and make paper mache eggs. In fact, bring all the crafty bits and bobs to decorate bunny ears during downtime. Lastly, why not cook up Easter-themed treats? Chocolate fondue is heaven-sent for chilly nights. Or throw some hot cross buns in the oven!
Activate Your Energiser Bunnies
For a great family adventure, stop by Illawarra Fly. The whole family will love adventuring through the canopies on the 1.5km Treetop Walk. There's a spiral tower that gives you breathtaking views 45m above the ground. Best of all, it's pram-friendly! No one misses out.
If your children are over 4 years old and at least 105cm tall, don't miss Australia's highest zipline. From one 'Cloud Station' to another, you'll jump off the platform and zoom between leafy trees on an elevated cable. You could call it a giant one-way swing!
There are discounted family packages, plus bubs under 3 go FREE. Get your tickets online.
Camping with Toddlers 101
A little planning goes a long way. As well as facilities-filled camping spots, here are more tips that will ensure one of your best Easter getaways.
Firstly, embrace the mess. Your toddlers will probably trip into the dirt and touch all sorts of gritty things. Get them to wear comfortable clothing that's easy to wash. For playing under the stars, bring loads of lights. Don't forget the first aid kit and sunscreen (lots of it!) too. Missing home? Pack home comforts like their teddy or favourite blankie. Finally, get a good night's sleep by preparing a comfortable mattress or a portacot if they need one.