Say Hello to The Gruffalo at Illawarra Fly!
Monday March 2nd 2020
school holidays, Family fun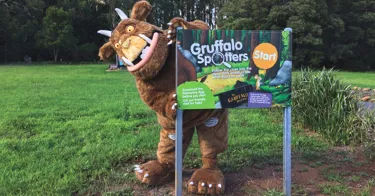 This has now ended, explore more great events here or buy tickets here.
Visit Illawarra Fly this weekend (7th and 8th of March) and say hello to The Gruffalo! 
Be on the lookout, at 11:30am and 2pm, The Gruffalo will be popping in to say hello! We promise he's very friendly and loves giving high 5's, so be sure to get your photo taken with him before he goes bye-bye!
Once you've said hello to The Gruffalo, continue your adventure on The Gruffalo Spotters Trail as you journey through our Treetop Walk! 
Visitors of all ages can explore and search for The Gruffalo and other characters from the book, using the Spotters Activity Trail and exciting Augmented Reality App! Guests will be able skip and stroll through the 'deep dark woods' like Mouse, wriggle around and hiss like Snake or sneak about the Treetop Walk on their tiptoes like Fox!
Bring the characters to life using the new and free Augmented Reality app – 'The Gruffalo Spotters AUS' – and identify special markers across the Treetop Walk to activate Mouse, Fox, Owl, Snake and The Gruffalo! Watch as the storybook characters enter your world, and jump beside them to get your photo together!
HOW TO DOWNLOAD THE APP
We advise all guests to download The Gruffalo Spotters App prior to visiting Illawarra Fly. Whilst you don't need the internet to use the App, you do to download and Illawarra Fly has limited reception.
HOW TO GET YOUR PHOTOS FROM THE APP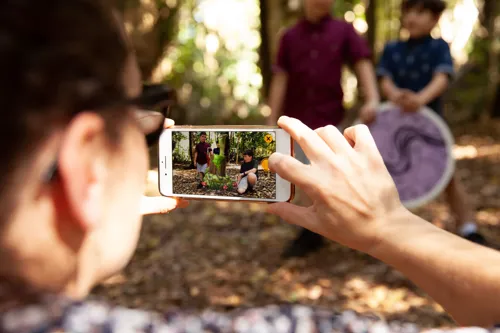 Before you embark on The Gruffalo Spotter's trail, please ensure you understand how your photos are captured and have allowed the App access to your storage. To see if your settings are correct, please click here and follow the instructions.
The Gruffalo © 1999 & TM Julia Donaldson / Axel Scheffler.  Licensed by Magic Light Pictures Ltd.  Developed in partnership with Forestry England.