Say Hello to The Gruffalo and experience The Gruffalo Spotters 2 App
Thursday September 3rd 2020
school holidays, Family fun, kids activities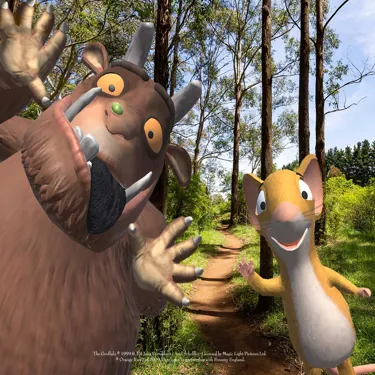 This has now ended, explore more great events here or buy tickets here.
These school holidays, discover the brand new Gruffalo Spotters 2 App on the trail of our Treetop Walk, including video recording, interactivity with the characters and selfie mode. Then meet The Gruffalo himself at Illawarra Fly from Friday to Monday each week of the school holidays at select times for photos and air hi-fives!
This second version of the Gruffalo Spotters App has additional features and new gesture-recognition technology making the experience truly interactive. Mixing animated characters with the real-world environment, the App encourages children to get exploring, firing their imaginations and enabling them to have an all-new forest experience. 
The App and trail are based on the best-selling picture book, written by Julia Donaldson and illustrated by Axel Scheffler, On the trail families can interact with the 3D characters from the film on the self-led trails, which are also packed with fantastic facts about forest animals, and fun activities. Through cutting-edge face and body recognition technology, the characters now look at the children directly, encouraging them to play along. If you roar, the Gruffalo roars back!
Photographs can be saved on your device and you can also create mini-movies of your time with the characters that can all be shared using the #GruffaloSpotters hashtag. The final new feature is selfie mode, so you can get a brilliant close up with the main characters, Gruffalo and Mouse!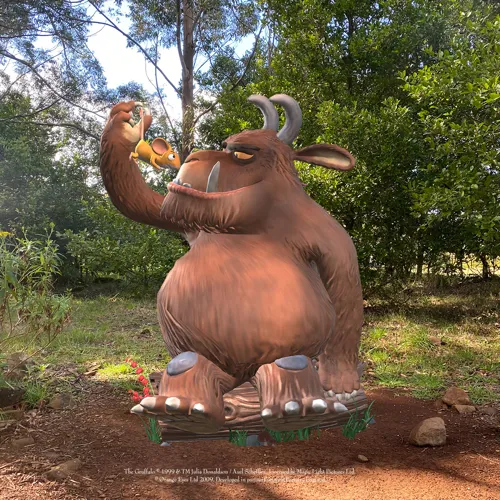 The Gruffalo Spotter 2 App is available for free with no purchase required from the App Store and Google Play and requires downloading before visiting.
The Gruffalo licensing deal with Illawarra Fly was brokered by Australia's Merchantwise Licensing on behalf of Magic Light Pictures. 
Add to your forest fun adventure by experience our Zipline Tour! Suitable for ages four and up it's the perfect "my first zip" experience and something the whole family can enjoy. Please note the tours have reduced capacity due to social distancing and spots are filling up fast. Be sure to head to our website and secure your spot in advance today! 
EVENT DETAILS:
Where: Illawarra Fly Treetop Adventures, 182 Knights Hill Road Knights Hill NSW 2577.
When: Saturday 26 September – Sunday 11 October.
Hours: Open daily 10:00am – 5:00pm (last entry 4:00pm).
The Gruffalo Meet Times: Friday and Monday 11:30am, Saturday and Sunday 11am and 1:30pm.
Cost: The Gruffalo experience is included in price of Treetop Walk. Adults from $22.50. Children from $13.50. Zipline Tour (includes Treetop Walk): Adults from $67.50. Children from $40.50.
To book: www.illawarrafly.com
HOW TO DOWNLOAD THE APP
We advise all guests to download The Gruffalo Spotters 2 App prior to visiting Illawarra Fly.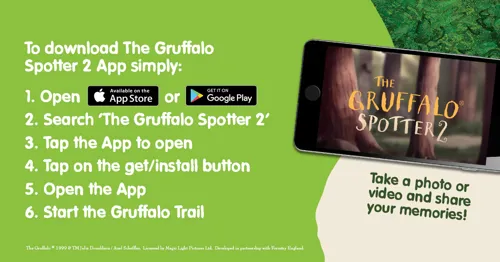 SAVING YOUR APP PHOTOS 
Before you embark on The Gruffalo Spotters trail, please ensure you have allowed the App access to your storage. To see if your settings are correct, please click here and follow the instructions.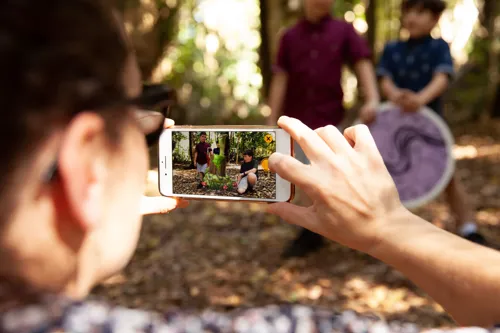 The Gruffalo © 1999 & TM Julia Donaldson / Axel Scheffler.  Licensed by Magic Light Pictures Ltd.  Developed in partnership with Forestry England.
HEALTH AND SAFETY 
We are open Friday- Sunday outside of school holidays and daily during school holidays (26 September - 11 October).
Open hours from 10am - 5pm (last entry 4pm).

Booking online is essential. We've reduced our Treetop Walk and Zipline Tour capacity. Booking online includes pre-paying and selecting the date and time slot of your visit.

We are cashless - please ensure you bring your card for on-site purchases.

We ask all staff and guests to practice social distancing and make use of the hygiene stations at the attraction.
For more information on our health and safety measures and updates click here.