How ziplining can improve your health and happiness
Wednesday October 16th 2019
Zipline Tours, Family fun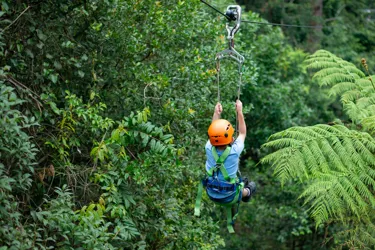 If you're looking to do good things for your health and happiness – try ziplining! Soaring through the sky on a zipline has great benefits for the whole family's wellbeing, and you can experience world-class ziplining less than two hours South of the Sydney CBD, at Illawarra Fly Treetop Adventures. 
Feel Free
Swapping the rat race for the forest helps to slow down and de-stress your busy brain. The ranges of the Illawarra region are breathtaking, with rainforest views for miles! Ziplining between the trees creates happy endorphins that will stay with you long after you're done zipping. With your family or partner along for the ride, spend some quality time together, enjoying outdoor activities in Sydney's hinterland.
Park Be Nurtured by Nature
How much time do you spend glued to your computer or phone? Instead of a screen, expand your vision to bigger things; look at the sky and get a feel for the weather beyond a quick phone forecast. As you zip along, keep a keen eye (and ear) out for wildlife that may be perched high in the trees or down below on the forest floor. On your Zipline Tour, you'll learn about the surrounding flora and fauna, the development of the course and more! Then, continue your nature adventure and up your steps on the 1.5km Treetop Walk, which is included in your admission.
Just Breathe
Ziplining does wonders for your lungs. High in the ranges, the air filters through the rainforest or comes fresh from the coast. It's a significant change from the stuffy, stale odours of being indoors. Officially the highest Zipline in Australia, the Illawarra Fly Zipline Tour involves three flights, two suspension bridges and four cloud stations, with the longest zip 106 metres! Talk about a fresh-air flight! 
Conquering Fears
Yes, I can! Repeat this to yourself as you approach the departure point. Conquering your fears is a sure way to access the good stuff in life. If you can overcome your anxieties, you can then apply this skill to all areas of your life. This means less tension and more calm. Who knows – ziplining today, mountaineering tomorrow! Getting better at any activity is mostly a mind game. As the saying goes, 'feel the fear and do it anyway.'
Safety First
Like any sport, there are essential ways to protect your health and safety. Make sure you listen-in when zipline instructors tell you what you can and can't do. Wear the equipment you're given, and if in doubt – ask. Most importantly, don't try this at home! There's a big difference between a professional, accredited organisation like Illawarra Fly Treetop Adventures and slinging a line up in your backyard. Stay safe, and fly right!
Now you know there's a 'zippy' alternative, don't bore yourself to tears doing laps of the local oval for peace of mind. There are plenty of adventurous things to do in Sydney and surrounding areas, so take the easy day trip to Illawarra Fly Treetop Adventures.