Magic in the treetops this summer!
Wednesday December 12th 2018
school holidays, summer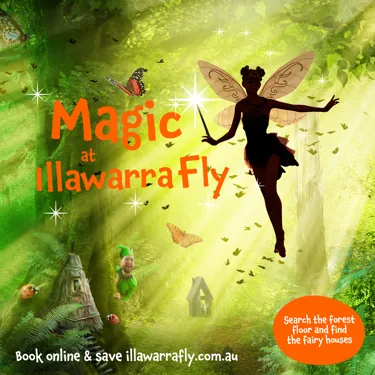 This has now ended, explore more great events here or buy tickets here.
This summer, Illawarra Fly Treetop Adventures will be transformed into a magical fairy wonderland and children from all across the land will be able to help our little fairy and elf friends find their treetop homes.
The Men's Shed in Colac, Victoria has been working hard to create our little magical houses which will be scattered throughout the rainforest floor. Some with verandas, some up to 80cm tall, and all made from recycled materials and fallen branches! It is YOUR mission to help the fairies and elves living at Illawarra Fly to find their very own fairy home.
Upon entry all children will receive a magical fairy card to help them to discover all ten fairy and elf homes and unjumble the magic word!
Feel the sprinklings of magical fairy dust along the trail, where you will find a colouring station and the exquisite homes before receiving your reward – an enchanted sticker – at the end of your journey.         
Whilst discovering the fairy homes, visitors to Illawarra Fly can also try out the Treetop Walk which features a 500 metre-long, 25 metre-high elevated walkway which provides unrivalled views of the unique beauty of the region's flora and fauna, from the rainforest floor up into the towering heights of the treetops. As well as the 45-metre tall Spiral Tower and the cantilevers suspended 25m above the forest floor – a truly exhilarating experience as you gently sway with the rainforest canopy.
So fly in and feel the fairy magic at Illawarra Fly this summer. And if you're lucky, you may even spot a fairy zipping through the treetops on the attraction's high-flying Zipline Tour!
Where: Illawarra Fly Treetop Adventures – 182 Knights Hill Road, Knights Hill, 2577
When: Summer Holidays: December the 15th until March the 31st 2019
Cost: Treetop Walk: Adults from $22.50. Children from $13.50. Zipline Tour (includes Treetop Walk): Adults from $60. Children from $36
Facilities: Cafe 106 is open daily