Top Tips to Exploring Illawarra Fly
Friday March 27th 2020
Family fun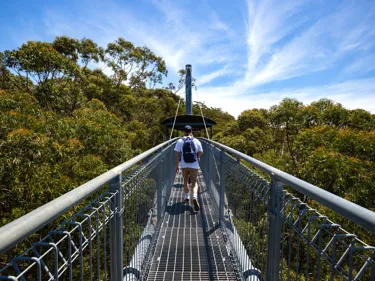 From Treetop Walks to Zipline Tours, coastal views and steel walkways, bush tracks, a café, retail shop and picnic area. Where do you begin?
There's a lot to see and do at Illawarra Fly Treetop Adventures which is why we've given you some tips below, to ensure you get the most out of your visit! Of course this is only a guide and there's no "right way" to do it, but if you love an itinerary, here's what we suggest:
Start your adventure on our Treetop Walk
We recommend arriving approximately 1hr 15minutes before you're scheduled Zipline Tour to explore our incredible Treetop Walk. This way you get to see the rainforest before you soar through it and you can listen to our audio guides (if you were to zip first but wanted an audio guide, you'd have to walk back to the Visitor Centre after your Zipline Tour to get an audio guide and then back again).
Grab an audio guide
Audio guides are complimentary which each ticket purchase so be sure to take one on your journey. There are 11 information stops along the way where you can learn about the development of the structure, the local flora and fauna, our magnificent cantilevers and more!
Utilise the lockers
Before you begin your journey, we also offer free locker usage for anything you don't wish to carry on the walk, as well as any lose items that cannot be taken on the Zipline Tour.
Climb Knight's Towers and explore the cantilevers
A true highlight of the Treetop Walk is Knight's Tower; a central spiral tower that rises to an incredible 45 metres above the forest floor, with unspoilt views over the Illawarra Escarpment and out to the Pacific Ocean. The steel walkway also features two gently swaying cantilevers, one at the start and one at the end. If you didn't make it to the top of the tower, be sure to go out onto the second cantilever located after Knight's Tower which also hosts incredible views.
Take the bushtrack
On your return back to the Visitor Centre, you'll see a sign at the bend with an arrow pointing right for our bushtrack. Take this way back! Going left is the way you came from at the start, so take the road less travelled through the bush and who knows, you may even spot Dozer (our resident wombat), in one of the burrows on this trail. This is about a 5 minute walk.
Get ready for the Zipline Tour
Once back at the Visitor Centre you can grab a quick snack or beverage from our Café 106 before it's time to get ready for your Zipline Tour. This includes filling out a waiver form, an induction talk by one of the staff and a 15 minute safety brief which is where you'll be fitted with all your zipline equipment.
Shop our retail store
When you get back into the Visitor Centre, be sure to tell us about your experience on our feedback machine located in the retail shop (follow the wombat footprints). Then take your time exploring our newly update gift shop which includes a gorgeous Australiana themed range featuring fine china, candles, ornaments and note books, as well as Aboriginal Art Giftware. We also have a variety of clothes including hoodies, jackets and t-shirts.
Refresh at Café 106
At this point you would have now completed both the Treetop Walk and Zipline Tour so you're definitely in need of some refreshments. Our Café 106 has a variety of food and beverages including wraps, burgers, chips, salad, soup, tea, coffee and soft drink. We also have both indoor and outdoor seating as well as a huge field of grass, perfect for a family picnic (you can bring your own mat and store it in one of our lockers!).
However you choose to explore Illawarra Fly, be sure to share your experience with us by checking in to our Facebook Page or tagging us on Instagram!
We look forward to welcoming you soon, but until then – happy planning!