Illawarra Fly re-opens Queen's Birthday long weekend!
Thursday June 4th 2020
Covid-19, re-open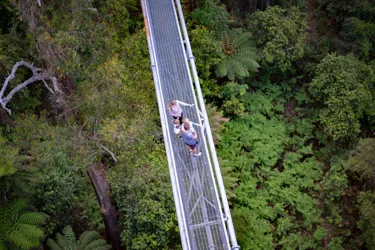 Experience nature with a newfound perspective from the Illawarra Rainforest  
Heightened health and safety measures are in place
20% off Treetop Walk and Zipline tickets for a limited time only!
In line with the Australian Government's recent announcement allowing zoos and aquariums to begin trading again, Merlin Entertainments are thrilled to announce the re-opening of Illawarra Fly Treetop Adventures on Saturday 6 June, in time for the Queen's birthday long weekend.
Guests can explore the outdoors once again from the incredible elevated walkway knowing there are additional health and safety measures in place to ensure the wellbeing of all visitors and team members.
"We can't wait welcome guests back to Illawarra Fly after being closed for over two months. In a time like this where people have been confined indoors for so long, being able to provide a memorable outdoor experience is going to be something really special," said Andrew Zentrich, Attraction Manager at Illawarra Fly Treetop Adventures.
"We've also made some changes to the way things operate on a day to day basis at Illawarra Fly, as the health and safety of our guests and employees is our number one priority." 
In line with government advice and requirements of local health authorities, Illawarra Fly is moving forward with a cashless approach and is requesting all visitors pre-book their tickets online to guarantee entry. The daily capacity has been reduced to allow for social distancing and the best possible guest experience. Enhanced cleaning measures have been introduced throughout the day to disinfect high-frequency touch points. Social distancing controls are in place for queues, Treetop Walk, Zipline Tour, visitor centre and café. The full list of health and safety measures can be found here.
Illawarra Fly features breathtaking views over the Illawarra Escarpment and a beautiful 1.5km walk through nature. With 500 metres of elevated walkway, you truly feel like you're part of the canopy, raised an incredible 20-30 metres above the forest floor. This walkway also features two gently swaying cantilever and a central spiral tower that rises 45 metres to those panoramic views.
Visitors will also be able to enjoy the Zipline Tour which includes three flights, two suspension bridges and four cloud stations. On the Zipline Tour, visitors will gain a unique perspective of the rainforest as they soar through the treetops and immerse themsevles in nature like never before. Please note our Zipline Tours have a limited capacity due to social distancing so be sure to book online to secure your spot.