Fun Family Winter Escapes Near Sydney
Wednesday June 12th 2019
Family fun, kids activities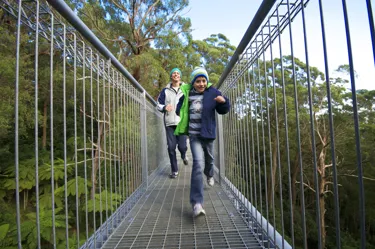 Winter is here. Now the mercury has dropped to manageable temps, it's time to pack the car and get away for some wintertime magic. When it comes to escaping the city – there are some excellent cold-month options near Sydney. Here are five adventures you can take off on; with your coat, scarf and gloves in-hand.
Farm Stay
It's time to trade the high-energy of the city for some slow, country charm. Why not escape to the simple life, where you'll find nature, open spaces and flora and fauna are aplenty. For an extra special dimension to your winter break, book a farm stay at one of the many options within an easy drive. If you've got animal-loving little ones, make sure you choose a farm stay where you can easily interact with the animals; feed the horses, have a gab with some goats and chill out with some chickens!
Kangaroo Valley
Within a 2-hour drive from Sydney is the vibrant green pastures of this lush valley; think twinkling river waters and rainforest, surrounded by towering escarpments. The best part is, you can say goodbye to traffic lights and settle into this community haven where there's a feast of cold-weather things to do. Hang out in one of the many cafes, meander the main street or pick up a unique piece in a second-hand shop. With the weather ripe for a hike, gather some delicious fare at the local bakery, pack some H2O and hit the trails around the valley or Fitzroy Falls to see some incredible landscapes and wildlife. If you don't want to do the work yourself, there's always horse riding or kayaking.
Southern Highlands
Nothing says 'winter' like going to any of these sleepy southern country villages. Cosy up to a fireplace, and don't forget your robe and slippers. Whether you choose Bowral, Mittagong, Moss Vale, Berrima or Bundanoon, you're in for gorgeous gardens, local history and an incredible array of quaint accommodation. And if you time your trip right – you may even see some snow!
Berry Beautiful
This town is a wintertime highlight. For anyone with the urge for a winter escape, you can't go past this delightful village. Award-winning produce, restaurants and wineries are all on offer, but for a real crowd-pleaser, make sure you don't miss getting your sugar fix at the famous Berry Donut Van or The Treat Factory. Stay somewhere in the rolling hills or town; walk the main street and pop into the boutique shops or markets if they're on.
Illawarra Fly Treetop Adventures
For an immersive nature experience, you can't go past Illawarra Fly Treetop Adventures. See the beautiful Illawarra Rainforest from 20-30 metres above the forest floor on our incredible 1.5km-return Treetop Walk. The 500m steel walkway consists of 2 cantilevers and a magnificent spiral tower that soars 45 metres above the ground. For even more adventure, experience our Zipline Tour: officially the highest zipline in Australia. You'll fly through the air with the greatest of ease on cable spans and walk two suspension bridges. Suitable for ages 4 and up, it's the perfect 'my first zip' experience, and one the whole family can enjoy!
Winter doesn't have to wane your sense of adventure. For some guaranteed cold-weather family fun, set out on one of these 5 out-of-town escapades.