Family Day Trips from Sydney
Wednesday March 27th 2019
Family fun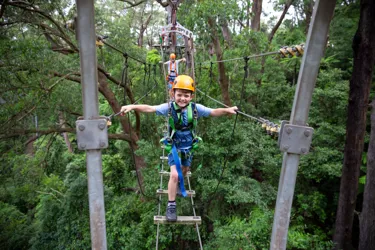 Bags packed? Check. Kids buckled up? Check. You're ready to roll. Within two hours from Sydney, a tonne of adventures await – here are a few of our favourites. We also share some of the funniest, smartest, family-friendly podcasts to listen to along the way.
Kangaroo Valley
2 hours drive from Sydney, the scenic drive to Kangaroo Valley is an experience in itself. While you're in the area, there's a leisurely bush walk to Manning's Lookout, and when you're done, the Kangaroo Valley Markets is excellent for local food sampling while jamming to live music. Why not take a family horse ride through a forest trail or play 'who'll be the first to spot a wombat' at Bendeela's picnic area.
Bowral and Berrima
An easy 1 hour 45 minutes drive from Sydney, Bowral and Berrima are activity-filled Southern Highlands villages. 81-metre Fitzroy Falls will amaze any age, and picturesque Bowral Lookout is an excellent place for a family picnic. End the day with a family-friendly flick at the over-100-year-old Empire Cinema or have the kids cuddle up with a story at bookworm's paradise, Berkelouw Books.
Head South to the Illawarra Fly
A 2-hour drive from Sydney, a quick 45 minutes from Kangaroo Valley or 35 minutes from Bowral is… us! You can choose from several fun outdoor activities at Illawarra Fly Treetop Adventures. This is a top spot for a one-hour pitstop to wake those restless road trip legs or spend some more time with us to start or end your day trip.
There's the gentle self-guided Treetop Walk, which is a 1.5km walk through the beautiful rainforest. Parts of it have you high up in the canopies 20-30m above ground. At one point, you'll reach the soaring Knights Tower that looks out over the mountains and farmland that meets the sea and is an incredible 45 metres above the ground!
Got a budding junior ranger on your hands? The interactive Rainforest Ranger Trail will show the kids the secrets of the bush. They'll come out the other side citing ancient tree species and unique local wildlife. They'll even get a souvenir Rainforest Ranger booklet to take home and a lanyard to wear with pride.
Families that Zip Together, Stay Together
Our most popular attraction at Illawarra Fly is the 1.5-hour Zipline Tour - the highest of its kind in the country. Make the kids' flying dreams come true (and yours too). Glide through the sky, from one tree to another, via a series of elevated cables and suspension bridges 35m above the forest floor. Ziplining is kid-friendly for those over four years old. Be sure to check out our family packages on offer too.
While You're There
A family day out in the Illawarra isn't complete without a stop at the famous Robertson Pie Shop. Fill hungry bellies with mouthwatering sweet or savoury pies; there are 24 varieties to choose from!
Keep the "Are-We-There-Yets" at Bay
The journey itself should also be fun, right? For a calm car trip – throw on a great podcast. If your kids are ages 6+, Australian podcast Short & Curly asks fun questions about everyday life that will be sure to get your kids thinking! For the coolest new stories in science and technology, tune in to Wow In The World or Brains On! If your little darlings are younger, Story Pirates is more your fit; listen as actors turn children's submitted stories into sketch comedy. Have teens? Stuff You Should Know has some fun facts for all.
Happy family day-tripping!