Discovering Sydney's South Coast
Friday February 22nd 2019
Explore the region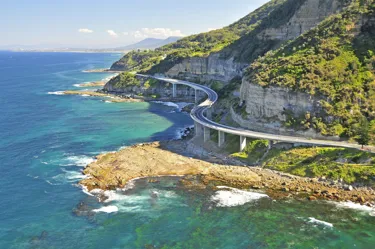 Sydney's great, but if you're looking for a day trip outside the big smoke – where to next? Within just two hours' drive south of Sydney, there's a whole world of wonder waiting to be discovered. Here's a host of south coast to-do's that are only a short car trip away.
Royal National Park
As the world's second oldest National Park, this natural gem is only an hour's drive from Sydney's CBD. With the changing seasons, this sensational park offers dynamic landscapes, ranging from grasslands to ocean-hugging cliff tops. If you're looking for a beach, head to Garie Beach which sits at the southern end of the Royal National Park. Take on the sand and surf for a spot of swimming, or, if you're lucky enough to be around during the whale watching season, this is a top spot to spot them. If fishing is more your thing, cast off for some beach fishing or put your twitchers hat on to see sea eagles, albatross or even a peregrine falcon.
Pack a picnic and head to Wattamolla where you can set up for lunch under the shade of the cabbage tree palms. The child-friendly lagoon has calmer waters, so the whole family can go for a snorkel together. And if you're looking for a place to stroll, take the Forest Path which explores the lower slopes of Forest Island.
Minnamurra Rainforest
A 1-hour and 50-minute drive will get you to the jaw-dropping forest in Minnamurra Falls, Budderoo National Park. This gorgeous green place has been well conserved over the years, so you can see all the flora and fauna you can feast your eyes on. Think lyrebirds, water dragons, wallabies, bowerbirds and king parrots. The Loop Walk is a lovely meander that'll take you along raised walkways, and across suspension bridges above the Minnamurra Rivulet.
If you want a one-of-a-kind perspective of the incredible Illawarra Ranges, head to Illawarra Fly Treetop Adventures. Here, you can enjoy Australia's premier Treetop Walk: a 1.5km steel walkway, 20-30 metres above ground level. You can also take the highest  Zipline Tour in Australia, which will have you flying on cable spans and suspension bridges, 35 metres above the forest floor.
 Wollongong
Once you've passed the Royal National Park, stay close to the coast, and you'll hit Grand Pacific Drive. This divine drive features the Sea Cliff Bridge; a feat of engineering which stands in the water and juts out from the cliff face. Once you get to 'The Gong,' as it's affectionately known, you'll quickly see how this charming city makes the most of its position between the sea and the mountains. The dramatic escarpment that towers behind Wollongong forms a kind of frame that sets this city apart.
If you love all things water, you'll be spoilt for choice with 'The Gong's' waterways, lagoons and beaches. Then there's Lake Illawarra for the watersports fans: sail the day away, or go windsurfing, fishing or prawning. Once you've got your water fix – head to the city centre for some shopping and fabulous food options.
Kangaroo Valley
The 2-hour drive to Kangaroo Valley is a treat in itself. Travel through quaint villages and spectacular scenery, before hitting the heritage Hampton Bridge, signifying your arrival in the valley. If you want to see the sights from the river, go for a canoe tour. While you're on the water, you could spot kangaroos, wallabies, wombats or even an elusive platypus. For some easy walks, wander to Fitzroy Falls; an impressive 81-metre waterfall.  
There's so much beauty on Sydney's South Coast, and it's all within a 2-hour car trip.