Digital Detox Weekend on the South Coast? Here's How!
Thursday November 21st 2019
Explore the region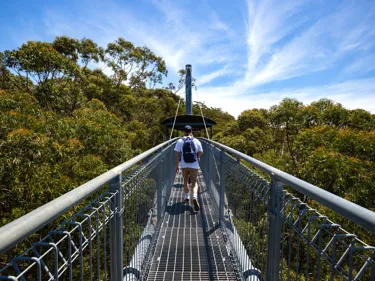 Our devices are such a significant part of our lives; we barely notice their pervasive presence. Often the first thing we do every morning is reach for the phone, then spend most of the day with headphones in and hours scrolling on screens. Fast becoming a case of social media over social interaction, our digital obsession is ever-increasing. So how can we make a change? Here are some ideas of how we can better use our time, and the benefits of going digital-free.
The Do-Goods of Digital Detox
Do-Good 1: Less Stress
A clean break from technology will make you feel calmer and more in the moment. Go for a walk without your phone; notice the wind in the trees and take in the natural sounds. Breathe easier, relax and notice those around you; you may even like to say hello as you pass by.
Do-Good 2: More Productive
Distracted by our devices, time disappears. Without technology on-hand, there's more room for getting on with that project you've always wanted to start. Stop scrolling and start doing.
Do-Good 3: Better Relationships
When virtual life takes over, our real-life connections suffer. Don't be the friend with their head stuck in the phone – stay present – when it comes to our fellow humans, you get out what you put in.
Do-Good 4: Improve Health
Being glued to a screen doesn't help you lead a healthy, active lifestyle. Put it down and get moving – whether you choose yoga, swimming or a brisk walk, it'll do wonders for your mind, body and soul.
Do-Good 5: Sounder Sleep
Most people use their phone in the lead up to lights out. A 30-minute scroll can easily turn into a 2-hour Netflix binge, and before you know it – it's later than late, and you're too alert to sleep.
Stay Active
So you've decided to ditch the devices, and the weekend is fast approaching – plan some go-to activities that'll keep you from reaching for your phone. Our amazing beaches and waterways mean there are swimming spots everywhere. Dive in, catch a wave, grab a kayak or try stand-up paddleboarding. For land lovers – join a sporting team with some mates who'll motivate you when you'd rather sit around on your phone. Being part of the sports squad of your choice will keep you active and occupied.
Keep the energy going by taking your activity to new heights at Illawarra Fly Treetop Adventures. High above the Illawarra ranges, the fresh air is magic; take flight on the highest Zipline in Australia. The Illawarra Fly Zipline Tour takes you across three flights, two suspension bridges and four cloud stations and when you're done zipping, enjoy the 1.5km Treetop Walk, which is included in your admission.
Stay Overnight
Get out of town and book overnight nature accommodation near Illawarra Fly; there are some incredible options throughout the area. By turning your treetop adventure into an overnight road trip, you can prolong the positive effects of getting away from the city and extend the duration and benefits of your digital detox. Choose somewhere quiet where you can meditate on the beauty and freedom you felt when you zipped through the forest. Try glamping or retreat spots – BYO tent for some under-the-stars peace.