Create magical memories and discover the NEW Fairy Forest these April school holidays
Thursday March 18th 2021
school holidays, fairy forest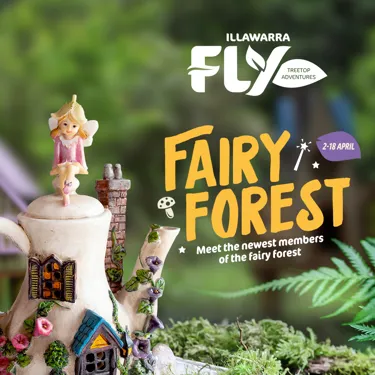 Meet the newest fairies and elves that call the Illawarra Rainforest home, as you journey through the magical Treetop Walk these school holidays.
Families can explore the Fairy Village at the start of the walk, then adventure through the enchanted Fairy Forest and discover 15 new homes along the way.
Each member of the Fairy Forest has its own unique home and tale to tell, and can be found on the walk down to the elevated steel walkway, on the way back up the path and along the bushwalk back to the visitor centre.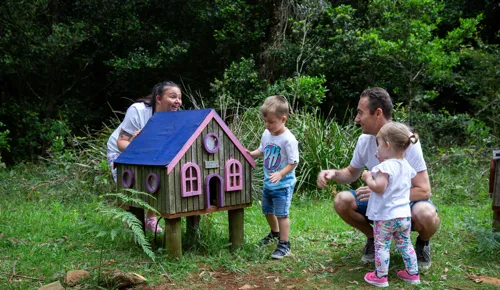 This elevated steel walkway makes up 500m of the 1.5km loop walk and reaches 20-30 metres above the forest floor. It features two gently swaying cantilevered arms, a central spiral tower that rises an impressive 45 metres high and displays breathtaking panoramic views over the Illawarra Escarpment.
Continue the fun on the Illawarra Fly Zipline Tour! Soar on three flights, walk across two suspension bridges and stop at four cloud stations. Suitable for ages 4 and up, it's the perfect "my first zip" experience and something the entire family can enjoy. 
So, fly in and feel the fairy magic at Illawarra Fly these school holidays!
All visitors must pre-book their tickets online in advance.
Click here to get your tickets now!  
Event Details:
What: Fairy Forest at Illawarra Fly Treetop Adventures
Where: Illawarra Fly Treetop Adventures, 182 Knights Hill Road Knights Hill NSW 2577
When: Friday 2nd April – Sunday 18th April 2021  
Hours: Open daily 10:00am – 5:00pm (last entry 4:00pm).
Cost: The Fairy experience included in price of Treetop Walk. Adults from $22.50, Children from $13.50. Zipline Tour (includes Treetop Walk): Adults from $67.50, Children from $40.50.