Christmas In July
Monday July 24th 2023
Christmas In July, Santa, Treetop Walk, Zipline Tours, Enchanted Forest, Family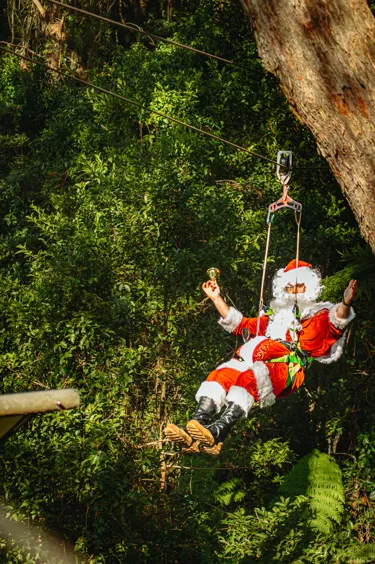 The sound of Christmas bells through the rainforest leads to a surprising visitor. 
This Christmas in July Santa flew into Illawarra Fly Treetop Adventures without his usual entourage of reindeer. Instead, he arrived on the 30m high Zipline experience, through the treetop canopies. 
Enjoying his time in the air without the usual reins, Santa touched down and spread his pre-Christmas cheer from the famous 20-45m high Treetop Walk, overlooking the Southern Highlands and Wollongong area.
Santa left behind a little gift  for anyone who wants to follow in his black boots this winter period - with a special 20% discount*. 
You can explore the Illawarra rainforest, taking a walk on the Treetop Walk that ends in Knights Tower and over-hanging cantilevers and discover the Enchanted Forest where some of Santa's magic may be left behind. Do you also want to fly through the air? During week days the Zipline experience is also 20% off, so you too can soar through the treetops without reindeer or a sled, just like Santa.
* Terms and conditions apply 
Book Now