Celebrate your birthday with The Gruffalo at Illawarra Fly!
Saturday March 7th 2020
birthday parties, kids activities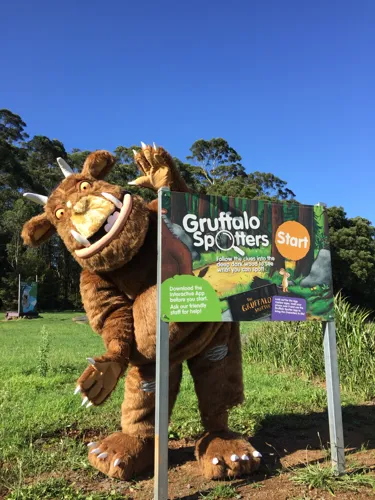 This has now ended, explore more great events here or buy tickets here.
Do you celebrate a birthday in March, April or May? Do you want to party with The Gruffalo himself for your birthday? Then we have you covered with the ultimate Gruffalo themed birthday party!!
What's included
• 30 minutes of party time with The Gruffalo Costume Character
• Access to The Gruffalo Spotters Trail on our Treetop Walk
• Exclusive access to The Gruffalo Kids Corner for your booking
• A reserved party table
• Assorted lolly bags for all children (if you would like to bring your own please let us know!)
Prices
Child Treetop Walk - $10.00
Child Zipline - $36.00
Adult Zipline - $60.00
Adult Treetop Walk - $18.00
(1 Adult free of charge for every 10 child tickets)
Catering
Chips & nugget platter - $15.00 (20 nuggets)
Wrap platters - $15.00 (ham, salad, chicken – 8 wraps cut in half)
Capacity
Minimum 10 children per booking. Maximum 25 children per booking.
Availability
Weekends (excluding April 11th-12th, 18th-19th, 25th-26th).
Weekdays during April school holidays
• Monday 13th – Friday 17th
• Monday 20th – Friday 24th
Bookings can be made for 10am start time to 1pm start time.
(Your party will be the only party run that day!).
Last available date for a Gruffalo Party is May 31st, 2020. 
Cancellation fee
No cancellation for Treetop Walk
$15.00 for Zipline cancellation (per tour that is booked)
$15.00 cancellation if catered booking
How to book
To book your Gruffalo Birthday party at Illawarra Fly, call (02) 4885 1010 or email info@illawarrafly.com today!
HOW TO DOWNLOAD THE APP
We advise all guests to download The Gruffalo Spotters App prior to visiting Illawarra Fly. Whilst you don't need the internet to use the App, you do to download and Illawarra Fly has limited reception.
HOW TO GET YOUR PHOTOS FROM THE APP
Before you embark on The Gruffalo Spotter's trail, please ensure you understand how your photos are captured and have allowed the App access to your storage. To see if your settings are correct, please click here and follow the instructions.
The Gruffalo © 1999 & TM Julia Donaldson / Axel Scheffler.  Licensed by Magic Light Pictures Ltd.  Developed in partnership with Forestry England.