Beautiful Sydney Lookouts Worth Trekking For
Monday September 2nd 2019
Explore the region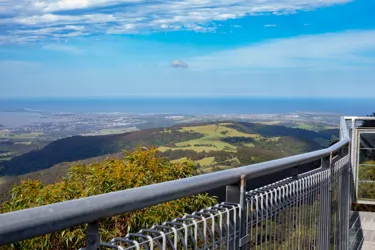 While there are plenty of drop-dead gorgeous lookouts in Sydney, there is also a myriad of amazing outlooks that are worth the travel. So next time you're hankering for a heavenly view, take a drive out of Sydney for a pretty perspective.
Drawing Room Rocks
This trail is short, but the spectacular views are definitely worth it! It's a 4.5km intermediate-level walk, which should take about 2.5 hours return. Taking its name from the unique-shaped rocks at the lookout, this track rewards you with an outlook across the green farmlands. In the Barren Grounds Nature Reserve, you'll venture through forest and heathland before you come to Drawing Room Rocks which resemble chairs and tables. Start this walk by following Brogers Creek Road for 100m, then follow the signposts.
These unusual rock formations have formed from wind, rain, cold and heat, gradually wearing away the Hawkesbury Sandstone. This stone is composed of horizontal strata, and because of this, the harder mineral tops of the flat stone tables have held fast, while the softer surrounding rocks eroded. With steep sections and unfenced open cliff faces, it's not suitable for younger kids.
Cooks Nose
At Barren Grounds Nature Reserve, this Grade 3 walk is 8km return and will take between 2.5 – 3.5 hours to complete. Looking over Kangaroo Valley, it's a well-marked track with steep sections, but the view from the escarpment is incredible! Walking through the heathland, keep an eye open for colourful wildflowers and Christmas Bells.
For the keen twitchers, keep an eye out for Eagles riding the thermal currents, a flock of Black Cockatoos and threatened heathland birds like the Striated Fieldwren, Eastern Bristlebird and Ground Parrot. If you want to take your birdwatching to the next level, don't forget your binoculars. Pack some H2O, a hat, and slap on some sunscreen. This area is known for unpredictable weather, so be prepared; bear in mind, there's limited or no mobile reception here.
Treetop Walk
Make a beeline for Illawarra Fly Treetop Adventures. Treat yourself to an incredible, self-guided Treetop Walk; a 1.5km stroll through the luscious Illawarra Rainforest. Take your adventure to new heights as sections of this walk take you up to 20-30m above the forest floor. While you're above the canopy, and at the peak of Knights Tower, savour the 360-degree view over the mountains, and follow the line of the lush green hills as they roll to the sea.
To continue the fun at Illawarra Fly, let your little adventurer loose on the interactive Rainforest Ranger trail where they'll learn about the ancient trees and wildlife of the region. Your little rangers will go home with a Rainforest Ranger booklet and lanyard. For those aged 4+, our Zipline Tour allows you to soar through the sky on elevated cables and walk across suspension bridges. Officially the highest zipline in Australia, if you've ever wanted to glide between trees at 35m above the forest floor – this is the place for you.
Three Views Walking Track
This flat level track, in Morton National Park, takes in three viewing spots, each with distinct charm and beauty. It's an easy, Grade 3, 9.5km walk that will take between 3 – 4 hours to complete. Wander through woodland and heath, along the Brooks Plateau and marvel at the views over Lake Yarrunga, Tallowa Dam and the Shoalhaven River with its ochre gorges. If you're lucky enough – in the late winter or spring months, you'll get an eyeful of wildflowers.
Bountiful wildlife will wow your kids, but make sure you steer clear of cliff edges. If the track in its totality is too much, break it up into shorter sections where you can still bask in the plentiful birdwatching, flora and outstanding outlooks. Park entry fees apply and don't forget your sunscreen, all-weather clothes, drinking water, a map and a hat.