A Family Holiday: Escape To The Forest!
Wednesday January 15th 2020
Family fun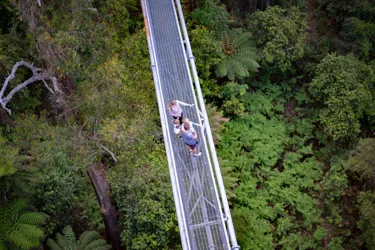 If you're looking for some quality family time in nature, venture to the shady, dappled and dazzling rainforest for some outdoor fun with a side of green. Enjoy the tranquillity – it's like a big deep-breath for your whole crew. Here are some essential ingredients for your family forest escape.
A Breezy Coastal Drive
Head for the stunning south coast. As you leave the buzz of Sydney behind, put on some music and feel your stress dissolve. Less than an hour's drive south of the Sydney CBD, you'll find one of the country's most spectacular coastal roads: the Grand Pacific Drive. All along this 140km stretch, are scenic lookouts, rainforests, beaches and laid-back coastal towns for a refreshing bevvy stop. These are the days: windows down, summer breeze, summer tunes and summer singing at the top of your lungs – all together now – 1, 2, 3!
My First Zip Experience
At Illawarra Fly, we're not a thrills-and-spills kind of place. We're more about providing a place and a space for being with nature. This is a fun, outdoor, family-friendly day with in-built adventure. And there's good news for little ones too – they don't have to watch from the sidelines. When your kids reach the age of 4 and over, they're old enough for their first zip experience. And odds are, it definitely won't be their last – they'll be bugging you to come back for weeks!
Rainforest Ranger Trail
Enjoying this natural playground is better when the family is together. Budding junior rangers will love Illawarra Fly's interactive trail that'll open them up to a world of nature secrets. Kids can learn about the region's diverse flora and fauna, complete with a souvenir Rainforest Ranger booklet and lanyard they can show-and-tell their friends about. Amazing work, Ranger!
Cloud Station Hopping
Look up! How about experiencing Australia's highest zipline? Roger that. While you're at Illawarra Fly, buckle up and journey through a maze of elevated cable spans and suspension bridges. From one' cloud station' to another, you'll soar through the forest feeling oh so free; wind in your hair; the breeze on your face. You'll even get a glimpse of the Pacific Ocean. It's a one-of-a-kind experience; just you, the trees and the breeze.
Want to save? Grab your tickets to Illawarra Fly online. Make your escape to the forest a group event and rally up more loved ones; with a group of 10+ people, you'll get an even bigger discount for the Treetop Walk! Before you go, check out the latest happenings for special seasonal events, like school holiday activities! 
A Joyful Summer
It's no surprise – exploring, discovery and adventures are the makings of a great summer. Everyone has treasured memories of carefree summer adventures, so go outside and make some more. When you head to the rainforest, even though there's a lot of shade, don't forget to do the Australian sun thing: slip, slop, slap! That means slipping on a shirt, slopping on sunscreen and slapping on a hat. Finally, bring plenty of water, stay hydrated and have some summer family fun!