Home activities for kids
Wednesday September 30th 2020
kids activities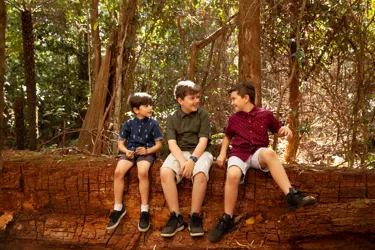 It's that time again…SCHOOL HOLIDAYS! A period of time that leaves parents wracking their brains, trying to think of ways to keep their children entertained and the words "I'm bored" to a minimum.
To help you get started, we've listed 5 activities below that are fun, hands-on and creative for your child to master these holidays.  
Create (and grow) your very own FOREST
Now we all know kids love to feel grown up and do things themselves, which makes this the perfect project, and one they can be involved in every step of the way. Whether you live in a house with a backyard, an apartment with a balcony or a room with a window, it's easy to create your very own forest at home! You can grow a succulent forest by planting a variety of succulents in a large pot or a vegetable patch/herb garden which they can pick and eat when ready. We suggest planting them a little grown rather than from seeds as it will most likely take longer than the two week break to see progress and will save you from hearing "when will they grow" every 10 minutes!   
Make a robot (or robot army) out of recycled materials
It's important to teach children to reduce, reuse and recycle where possible and the positive impacts this can have on the environment. With the recycle materials in your home such as toilet paper rolls, egg cartons, cereal boxes, fruit containers or drink cartons, challenge your crafty kids to make a robot or multiple robots using different recycled materials! Once they've made and named their robot, they could leave as it or complete an extra step by painting or colouring it in.
Be a movie critic for the day
Putting on a movie is a simple way to entertain your kids for an hour and a half, but here's a way you can make it a little interesting for them, especially if it's a movie they've already seen! Tell them they are going to be your movie critic for the day and have them write down answers to questions as they watch the move. Example questions could be: 1) Describe the main character including their style and personality, 2) What is the most exciting part of the movie, 3) If you could play any character from the movie who would you be and why?
Build a collage of art with materials from inside/outside the home
Who doesn't love a scavenger hunt? Exploring can be fun and making a creative collage can be as simple as collecting items from around your home! You can begin your search outdoors for fallen leaves, sticks, bark or indoor materials such as spare fabric or lace to piece together for a collage. You'll need a canvas, adhesive glue, of course all the items you find and then spray paint! Why spray paint? Well once all the items are stuck down on the canvas, spray paint over the top to create a beautiful artwork that has different textures and looks 3D, but all comes together in a collage and forms a work of art with the same finish colour on top!   
The Gruffalo Activities from home
Bring The Gruffalo Adventure to your home with The Gruffalo Dot-to-Do and Animal Word Search sheets! Then brings the characters to live in a different way by making Pinecone Mouse, Origami Fox, Egg Box Owl and Pasta Snake!
We hope these five activities keep your kids entertained these school holidays! We'd love to see your creations too, so don't forget to tag us on Facebook @illawarraflytreetopadventures and instagram @illawarrafly.