After Dark Zipline Tour
Fly into the darkness
Experience our Zipline Tour - At Night!
When the sun goes down, strap on your night wings and experience what it feels like to fly into the darkness like a bat at our After Dark Zipline Tour at the Illawarra Fly Treetop Adventures.
Your tour begins with a breathtaking twilight tour of our Treetop Walk through the Illawarra Rainforest. Then, under the cover of darkness, Zippers will navigate a series of cable spans and suspension bridges up to 35 metres above the forest floor including the super zip which is 106 metres long! Our experienced Tour Guides control all departures whilst providing you with an insight into the forest's fascinating history. 
For more information, please read the full Terms and Conditions. 
Book Now
Want to Book a Tour?
Prices
| | | |
| --- | --- | --- |
| Ticket Type | Full Price | Online 10% or discounted price |
| Adult | $85.00 | $76.50 |
| Child (4-15 years) | $60.00 | $54.00 |
| Adult Passholder (Merlin Annual Pass or MY FLY Pass) | $85.00 | $60.00 |
| Child Passholder (Merlin Annual Pass or MY FLY Pass) | $60.00 | $40.00 |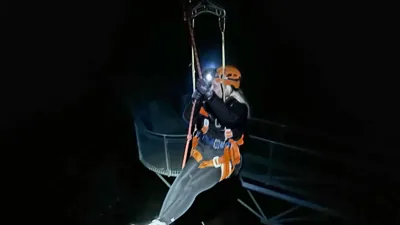 After Dark Zipline Tour
After Dark Zipline Tour
Access to the Treetop Walk for a twilight stroll overlooking the beautiful Illawarra coastline
2 hour experience with 4 cloud stations, 3 flights and 2 suspension bridges
Book in advance to secure spot
Book Now!
Important Information about After Dark Zipline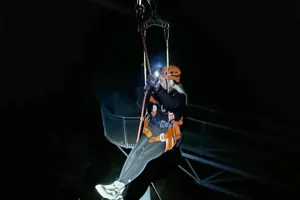 What's Included
Access to the Treetop Walk for a twilight stroll overlooking the beautiful Illawarra Coastline
Exclusive night time Zipline Tour
Head torches for Zipline Tour provided
4 cloud stations
3 flights
2 suspension bridges
Small group tour – Maximum 10 people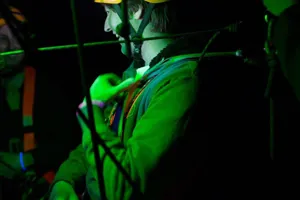 Tour Times
We have two After Dark Night Zipline Sessions: 
5:45pm 
7pm 
*We advise arriving 1.5 hours ahead of your scheduled start time so you can enjoy the Treetop Walk as the sun sets. An email will be sent to you 1 week prior to your Tour advising you of this start time. This start time will include the start time for your Treetop Walk as well as the start time for the Zipline.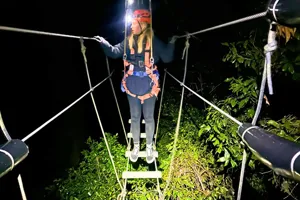 Duration
Your Tour will begin with a Twilight Treetop Walk that takes approximately 45 to 1 hour to complete. Your Zipline Tour will commence after you have completed the Treetop Walk. 
Your Zipline Tour will run for approximately 1-1.5hrs from start to finish which includes a 20-25 minute safety briefing and harness fit with the Tour Guides, a 5-minute walk through the Illawarra Rainforest to get to the start of the Zipline Course, up to 45 minutes clipped in enjoying the treetops from a different perspective and remaining with your group from departure to touchdown, and then a 10 minute walk back up to the Visitor Centre.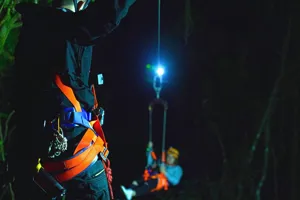 What to Bring
You are required to wear weather appropriate clothing and fully enclosed, comfortable sporting or walking shoes that will not slip off 
Any shoe that has an "open toe or heel" - including sandals, thongs, heels - are not permitted
On rainy days come prepared for the tour wearing wet weather jackets (pants recommended too) and on cold days you must come prepared for the tour wearing warm clothing
Bear in mind that our Night Zipline is in Winter. So bring extra warm clothing as it gets quite cool once the sun sets. Singlets, skirts will not be suitable attire for the full body harness
Water bottle to stay hydrated or purchase one at our Café 
Frequently Asked Questions
Have a question about After Dark Zipline Tours? Check out some of the most frequently asked questions below.
Please be aware that any cancellations within 7 days of the experience date will incur a $20 reschedule fee per person due to the experience being out of hours. For any cancellations or reschedules, please call 02 4885 1078 or email us at info@illawarrafly.com
Our After Dark Night Zipline Tours are suitable for ages 4+.
Anyone that is 13 years or under must be accompanied by an adult. 
The minimum height is from 105cm 
The After Dark Zipline Tour operates in most weather conditions. We endeavour to remain open in all conditions where health and safety are not compromised.
Maximum weight of 117kgs fully clothed
As it is winter, please wear warm clothing, closed in shoes and comfortable clothing that you can wear a harness over.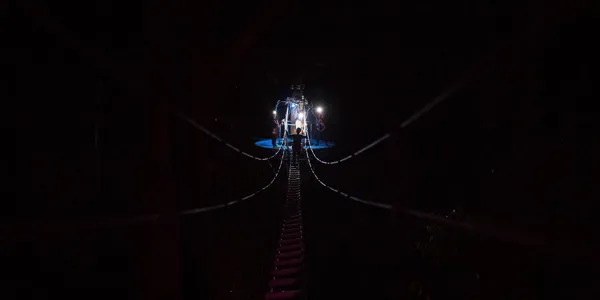 After Dark Zipline Tour
Access to the Treetop Walk for a twilight stroll overlooking the beautiful Illawarra coastline
2 hour experience with 4 cloud stations, 3 flights and 2 suspension bridges
Book in advance to secure spot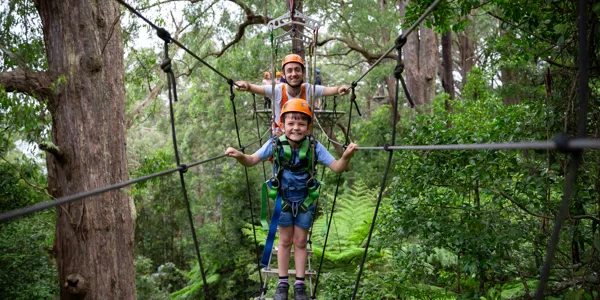 Zipline Tour Gift Voucher
3 flights, 2 suspension bridges, 4 cloud stations and Treetop Walk included
Open everyday these school holidays! Tours have limited capacity - book online to secure your spot today
Suitable for ages 4+ and the perfect "my first zip" experience