Staying Safe
COVID-19 Updates and Health and Safety Changes
Vaccination Information and FAQ's
We understand these times are completely unprecedented and there are probably a lot of questions. Please see below our FAQ section in relation to COVID vaccinations.
Due to current Government Guidelines, masks are no longer mandated in indoor settings and this includes Illawarra Fly. We still recommend to wear a mask indoors however it is not mandatory.
Postponing your visit
Please note due to the changing Covid situation, we are very flexible in moving your booking if someone in your party has COVID or you have symptoms.
If you have any further questions please reach out to our team for assistance.
Prior to your arrival
Please make sure you have made your booking online, where possible. This includes pre-paying and selecting the date and timeslot of your visit.
Our valued Annual Pass members can pre-book their timeslot here. We have extended Annual Passes to ensure you can still enjoy an entire year of visiting Illawarra Fly.
Before leaving home, please check our Facebook page or website for the latest information.
Please be ready to make on-site payments using a 'contactless' bank card, rather than cash.
We politely request that you refrain from visiting our attraction should you start displaying any of the symptoms associated with COVID-19 including cold/flu symptoms. Please contact us via 02 4885 1078 should you need to amend your booking.
On arrival
Guests will notice new information signage informing them of key safety messages and instructions.
It is highly recommended for guests on the Zipline tour to wear a mask however it is not mandatory.
Hygiene and disinfection measures within our attraction
We have introduced enhanced cleaning measures, throughout the day, which seek to disinfect high-frequency touch points, such as tables and chairs, service counters, grab and flush handles, door handles/plates and taps.
We have introduced new deep cleaning measures in the event that a person presents themselves with symptoms consistent with COVID-19.
We have introduced several hygiene stations/hand sanitiser dispensers around the attraction for guests to use.
As with our employees, we politely request that all our guests uphold the highest possible hygiene standards – whether it be when sneezing or coughing, through regular hand washing or the frequent application of hand sanitiser.
We hope these new health and safety measures provide our guests with confidence and eagerness to us.  These are unprecedented times for all communities around the world, and whilst every effort is being taken to protect the safety and well-being of our guests, everyone should inform themselves of the risks, conditions and personal responsibilities before they visit.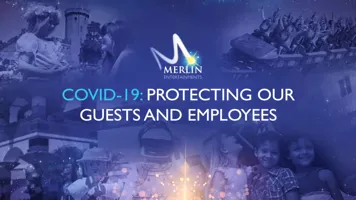 What is Protecting the Magic?
At Merlin Entertainments Protecting the Magic is about driving a positive, proactive culture of safety across all our attractions. It helps our leaders, people and business partners identify and manage risks effectively, prevent accidents and deliver unforgettable guest experiences.
We focus all our energy on looking after our guests, colleagues, contractors and the animals in our care. Our mission is clear – to always ensure we're Protecting the Magic every day through world class people and practices.